Atlantic School Maker Faire 2022!
Brilliant Labs would like to thank everyone who submitted to our Atlantic School Maker Faire! Our Atlantic students and teachers have worked very hard this year to create, build, and showcase many brilliant projects. We can't wait to see what you make next year!
We would also like to thank all of our sponsors, without whom this could not be a reality!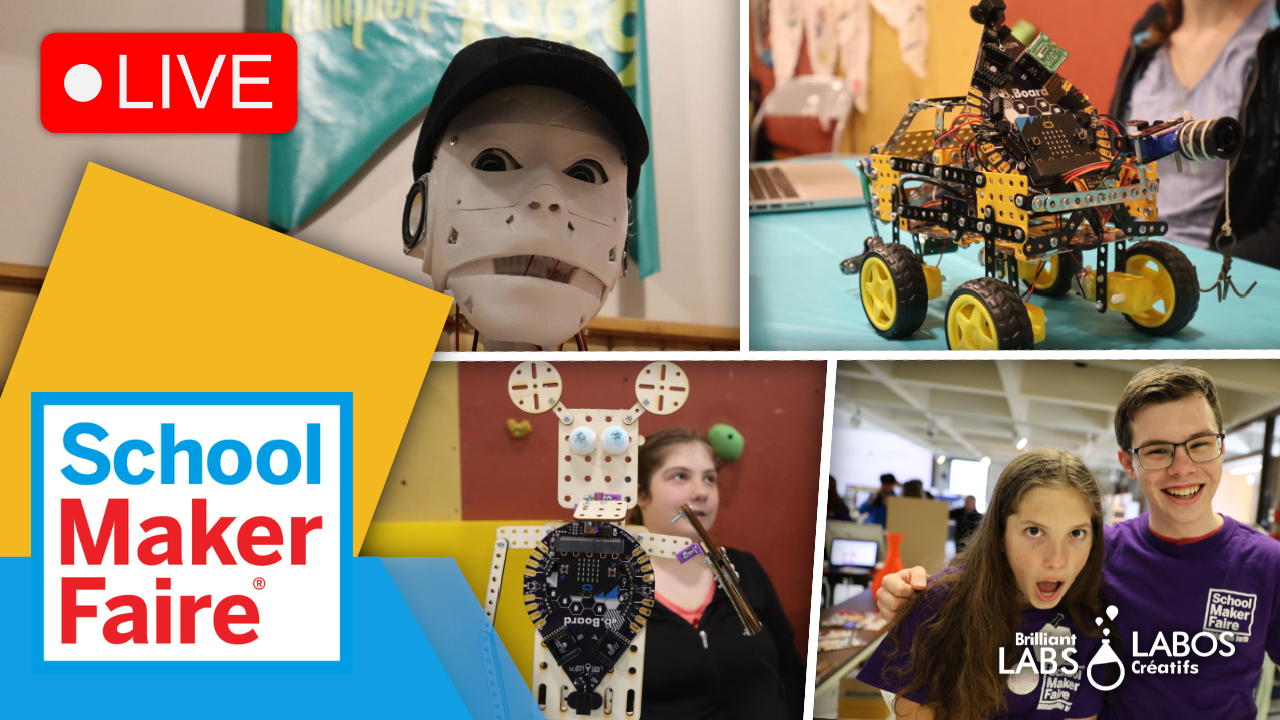 Watch our recorded live School Maker Faire event here!
Provincial School Maker Faires!
We hosted provincial and regional School Maker Faires in May!

New Brunswick

After a three-year absence, Brilliant Labs, in collaboration with the provincial Departments of Education and Early Childhood Development, is hosted three in-person mini Maker Faires this spring in New Brunswick! Students showcased life sized robots, Ipad orchestras, 3D printing projects, videos games and much more!
May 19th, 12pm-6pm: École Marguerite Bourgeoys, 238 Marguerite Borge Rue, Caraquet, NB
May 24th, 12pm-6pm: Milledgeville North school, 500 Woodward Ave, Saint John, NB
June 3rd, 10am-2:30pm: École Sainte-Anne, 39 Rue St Joseph, Sainte-Anne-de-Madawaska, NB
Questions? Email us!
Nova Scotia

Virtual Maker Faire was on May 12th & 13th. This free event highlighted inspiring creations from Nova Scotia makers of all ages and passions with pre-recorded events!

It is clear that youth were thinking about the future of our climate. For example, students have prototyped a robot that plants seeds, a solar cell phone charging station, and entrepreneurial ideas to help solve the supply change food crisis by collecting food scraps from local grocers, and the community at large, to harvest seeds for edible gardens.
Newfoundland & Labrador

We hosted a virtual School Maker Faire May 13th showcasing student projects from across the province. Plus, we hosted an open house on May 14th at our new MakerSpace at Keyin College, 644 Topsail Road. There were activities, student projects and hands-on making stations to help families, students & teachers explore the fun of learning when making!
Main Live Stage
Stay Tuned For Next Year
The Main Live Stage is the live-streamed, all day event on our YouTube Channel! You can now watch the live event on our YouTube to meet our hosts and enjoy all the brilliant projects from our Atlantic Canadian makers, and various segments with guests and activities! We hope you get enjoy and get inspired.
Watch Here
Maker Workshops
Are you looking to explore further? The Maker Workshop Island is full of fun projects that contain instructions so you can make your own! See the detailed guides for various projects and utilize your knowledge to become a Maker for the day! Workshops are available for all skill levels.